We're a month into a fresh new 2018. As you know so well, the way you start your year will dramatically set up the way the rest of it unfolds. We find it to be the perfect time to let you know that we launched our first-ever healthcare marketing website - Refresh Healthcare. We noticed a gap in the Indian healthcare industry where healthcare companies showed negligence or were hesitant in going online and growing their brand by big margins.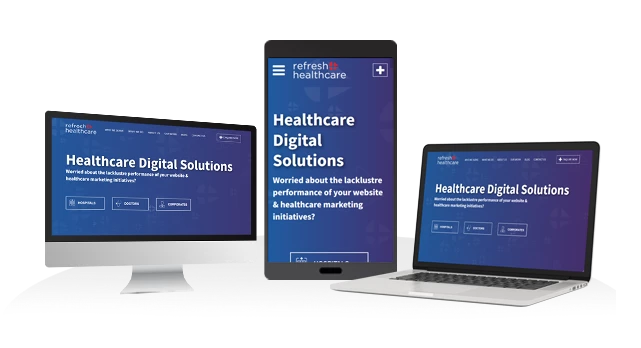 Perplexed as to why this abyss, we figured that the issue was the lack of platforms that helped healthcare companies especially hospitals to grow their businesses by taking hold of their digital presence as well.
We believe that consumers of today are radically different than those before them. They have caller IDs to block unwanted calls, record their favorite TV shows without ads and distance themselves from things they don't want to be a part of by simply un-following or un-liking it. Basically, they will shut you out within seconds if they don't want you to reach out to them.
If we talk about the Indian healthcare market, we come across thousands of hospitals and private practices working hard to cater to as many as possible patients. With competition so high, it doesn't leave hospitals with as many options since they all provide similar patient care. So how can they differentiate themselves from their look-alike? By opting for smarter marketing tactics that help them maintain a positive reputation and build a unique identity. Furthermore, it also helps hospitals grab that top of the mind awareness in the minds of the consumers.
Thus Refresh Healthcare came to life! We put into practice our 15+ years of experience and launched a healthcare website that focuses on offering strategic digital solutions. Refresh Healthcare comes with its new branding, and offer a full-spectrum of well-formed, personalized Digital Marketing & Development Solutions to hospitals, doctors and corporate healthcare companies. Being a pioneer in web strategy and development solutions, our focus was to build web solutions that help users visiting websites in their daily lives and enhance business growth for the hospitals and doctors alike. Our experience from other industries helped us to bring fresh views and sustainable innovation strategies, differentiate from the competition and create viable solutions that offered improved healthcare marketing experiences for patients and care providers in the short to longer-term.

"We have done extensive research and felt Healthcare industries face challenges due to changes in social behaviour, economic condition and increased competition in marketing their services. Most of the industry insiders especially Doctors, Hospital CMOs and Management is not able to understand the importance of digital footprints and how it is shaping the new customer choices. Under conditions of turbulence, healthcare companies had to be successful not only in competing under price and quality pressures, but they also needed a tremendous amount of flexibility and innovation along the way that will benefit healthcare institutions to do better. I think we did just begin our journey to do that!"
Need Your Support
You had known us and experienced our passion and commitment to quality with which we build your brand. What we want is your corporation to help us reach out to a larger audience so that we connect with more healthcare companies. We want you to refer us and connect with doctors, hospitals and medical companies so that together we can work in unison to help the healthcare industry grow towards opulence.
Get Free Tips To Enhance Your Business; Follow Us On