Monsoons have drenched a good part of India this season, and we at Refresh Ideas are also soaking (pun intended) in the glory of great projects, thanks to our clients who allow us to contribute and propose strategic solutions to their businesses. It is always a heart-warming affair when a happy and satisfied client returns over the years to re-invest in more growth.
Advertisementindia.com
is one such client of ours. This outstanding company is among the top 3 portals in their industry, and for good reason. Whether you're seeking a bride, a house, or to build your brand, AdvertisementIndia.com helps you to accomplish your goals by providing the cheapest, easiest and fastest way to book your personal or business ads in any newspaper. The team of Refresh Ideas played a role in pinpointing online customer needs, and since then, the business has witnessed a massive shift in how it serves its online users through the website.
Let's find out the results of this strategic transformation from Roopesh Agarwal,Director of Marketing & Operations (Media Mogul).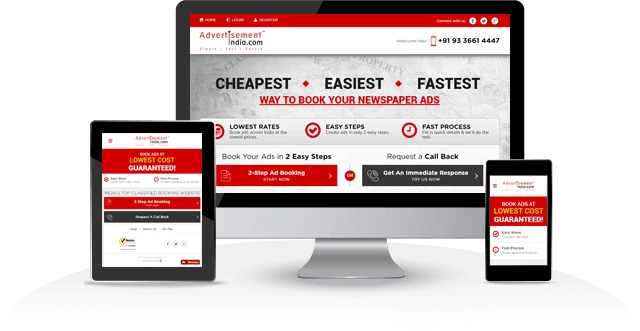 We first started working together 11 years back in 2005, and since then, there have been 4 major revamps of the website –that's a long time to stick with us. What made you put your trust in us?
You have always come up with innovative new ideas, keeping the future in mind. You work with full dedication, and even care for the project more than you care for us as a client! Sometimes you added features that the Refresh Ideas team felt necessary to have, regardless of whether they were discussed in the initial meetings or scope. You are definitely very deeply involved and invested in the project, almost as though it were your own.
You agreed to completely change your business process after consulting with Refresh Ideas, and now your website gives personalised services of an Ad Expert to 100% of your customers – what's the impact on the business processes & revenue after this change?
This time, the website's front end & back end are very advanced and work well. I personally feel that customers are surprised at how we're doing it. Right now, it is a new process and will take a few more weeks to gauge the true impact of the changeover.
Strategy + Web Design + Technology – How would you describe this journey with us? Any "Aha!" moment you want to quote?

Refresh Ideas is always SUPER-DUPER in SWT (Strategy + Web Design + Technology) because they are always future-minded, always a step ahead of the others, and that keeps us competitive - that's the best part of Refresh Ideas.
Was there any 'big value' differentiator you experienced from start to finish of the project with us?
The project started with the discovery of a few website shortcomings and ended with many new features the Refresh Ideas team added on their own for the successful execution of the strategy. This invaluable input could only have come with experience in the industry. Whatever we didn't know enough of to suggest, they intuited and added themselves, and that's the 'big value' differentiator.
Why do you think businesses should work with Refresh Ideas team, considering we are very selective with whom we work & only take a handful of projects every quarter?
First & foremost, you've got the BEST Strategy + Web Design + Technology, and secondly, you're fully dedicated towards the job

Get Free Tips To Enhance Your Business; Follow Us On