Chatbots are great in increasing your online store revenue. Earlier, complex e-commerce chatbot integrations were hard to develop and required tons of manual work. Luckily, this is the past. You can now connect your Shopify chatbot in just a couple of mouse clicks and create advanced communication that will help sell your goods and better assist your customers.
Refresh Ideas has made a demo video of how to easily & quickly you may integrate a chatbot on your Shopify store.
How to integrate a Shopify chatbot to my Shopify store?
How to integrate a Shopify chatbot to my Shopify store?
Following are the steps:
Step 1 >> Log in to Shopify store admin panel
Step 2 >> Click on Messenger under the Sales Channels
Step 3 >> Connect the Facebook Account
Step 4 >> Choose your Facebook page which you want to connect for a chat.
After the connection, click on the customization link under the messenger and choose the chat icon and enable it. That's it; you can now receive direct messages from customers on your website directly through the Facebook messenger using Activebox plugin on Shopify store.
Thoughts
We are at a golden age of technology. Chatbots are now advanced in the last couple of years to provide stable communication solutions humans like to use. Coupling them with incredible platforms like Shopify is an excellent way to boost revenue.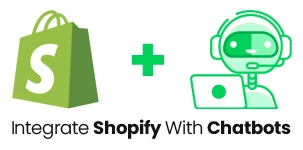 Get in touch with New Delhi based eCommerce development & marketing company to boost your customers & revenues online.