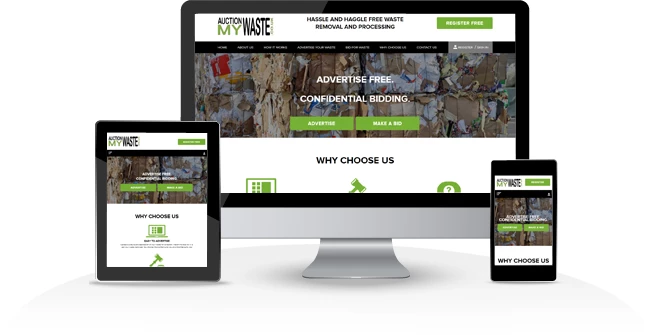 AuctionMyWaste : An Outstanding Take On Waste Collection And Removal
Mark Hearsey is the mastermind behind the innovative and highly useful concept of AuctionMyWaste. We were pleasantly surprised and quite thrilled to be a part of such a revolutionary idea. When you log on to https://www.auctionmywaste.co.uk, you get:
Best value for both sale and purchase of domestic, commercial or industrial waste.
Full compliance with UK waste removal policies.
Secure, confidential and updated interface to keep track of all the activities.
Perfect and multiple options for all your waste disposal and recovery requirements.
Mark was concerned about if and how we will be able to comprehend the entire scope of this project, both visually and technically, considering it was a fresh idea.
But thanks to the regular conference calls across the time-zones, we were able to gain traction in the required fields when it was most required.
Power of Communication
Since the beginning of the project, everyone involved in the project was kept in the loop.Basecamp helped us to stay in sync with every update, query and change. Every last detail was made to match perfectly with the personal taste of Mark and his well-informed team.
What Made It Outstanding
As per Keith, the Digital Account Director at Digital NRG who was overseeing the whole project, we delivered above and beyond of what was expected of us.
The unexpected and extremely helpful functions present throughout the finished website won him over.
Certain noticeable things such as the way action buttons change when you click them or picture hover-over function made him realize that we fine-tune all out projects to perfection.

"We have every confidence in your abilities to help that we will have no hesitation to call you when we need to enhance & build extra functionality into the site. You did a great job & we are delighted at our end!
Glowing Feedback At Refresh Ideas , we are motivated by setting new benchmarks in terms of client satisfaction with every new project we take. Keith was elated by attaining the exact web presence through us as he was wishing for when he first thought about this idea.
Our undying curiosity throughout the project helped the AuctionMyWaste team to communicate all their requirements in a way that will give us a clear idea of what they were looking for.
Our thorough professionalism and punctuality further impressed them as the project progressed. How Refresh Ideas Helped AuctionMyWaste Reach its Business Goals How one handles a eureka moment decided whether it becomes the force of nature or turns into another underwhelming product. Thankfully, the AuctionMyWaste team showed great faith in us and we were able to offer just the right strategy, design and execution for their venture. So, get back to us with your groundbreaking idea today so that we can turn it into a fully-functional business entity for you before tomorrow! "

Don't miss out on the opportunity to take your business to the next level.
Book your first consultation today, and let's discuss how we can help you grow your business through digital channels. Click below to schedule your appointment; ask away your plans, visions or doubts, and take the first step.
Book Your Free Consult Now