Stellar Web Strategy knows no boundaries. The CEO of Tantiv4 shares about how RI's exceptional web strategy and design helped to achieve the company's futuristic objectives.
Every time we get the chance to work with start-ups and serial entrepreneurs, we get super excited. This is because start-up projects are marked by passion, relentless dedication and energy geared towards making a tangible difference to the world around them – the kind of stuff everyone could use a little more of. Like they say, iron sharpens iron, and we love being in the company of inspiring people. So when we were introduced to San Francisco-based entrepreneurs with a company name straight out of "Star Wars", we were understandably thrilled. Tantiv4's mission is to provide the average person with an ecosystem of affordable, secure and well-designed "smart connected devices" to improve their quality of life. Before that can happen, every successful venture begins by first attracting like-minded people. With this strategic objective in mind, Tantiv4 launched their website, https://www.tantiv4.com/.
Here's a candid chat with Anshu Shrivastava, Co-Founder of Tantiv4, Certified Star Wars Superfan & Architect (in that order).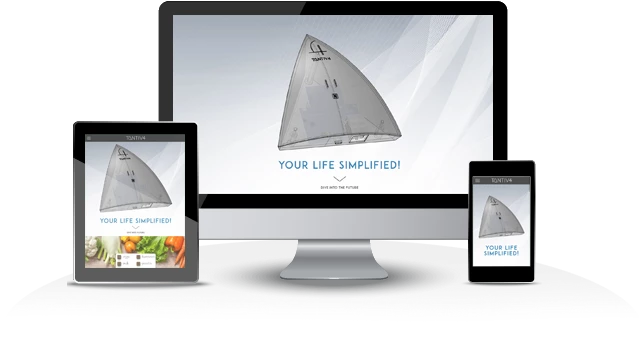 Q. As an IoT (Internet of Things) product company with a passion for futuristic ideas, how did the website we set up help you to reach like-minded people and get the idea of what you were developing across?
A website is an important part of the strategy to project the look and feel of our company and its products. It's an introduction of our company, a chance to put our best foot forward to other like-minded people who know nothing about it. Tantiv4's website succeeded in doing just that with its nice, aesthetic and responsive design.
Q. Strategy + Web Design + Technology – How would you describe this journey with us? Any "Aha!" moments you would like to tell us about?
The journey was smooth - our concerns were addressed in timely manner, the feedback given was promptly analyzed and implemented. Your team maintained a very professional and courteous approach throughout the entire process.

"My "Aha!" moment was when I was the first CEO to receive compliments on our website in a conference. The CEOs of several other start-ups even came back to me asking for the contact details of the team who set up the website. While I was hoping it would happen the other way round, this wasn't bad either. It's a truly amazing validation of all the effort your team put in!"
Q. What was your experience like with web/tech projects before Refresh Ideas?
Earlier, we had approached 3 different vendors. We had different issues with each of them - some didn't understand the technical and responsive aspects of design; others designed flat, terse and crude webpages lacking the creativity that we were looking for; some were even outrageously unprofessional by taking forever to get back to us. Unfortunately, this delayed the website launch by 6 months.
Q. 'Fetch-it' (the first product from Tantiv4) is now in the mass production stage. How much did discussing and defining the target customer persona in initial meetings help to make focused marketing decisions?
It was very helpful to talk to someone knowledgeable who has an understanding of the market, but at the same time, didn't know too many details about our product. It provides you with an external reference and grounds you to reality. In that sense, it gave us valuable insights which guided our marketing strategies from a non-technical point of view.
Q. At the briefing stage, the security, design and regular maintenance of the site using the custom-built CMS were big concerns for you. How would you rate your overall satisfaction so far?
This has worked very well and we have been able to make some minor modifications to the website ourselves. The CMS has been stable and we did not experience any issues.
Q. Were there any 'big value' differentiators you experienced from start to finish of the project with us?
Yes, definitely. Having one person to communicate to about all aspects of the web design and oversee its execution kept us stress-free. Your team was always on top of things and kept us on track to complete the website in time.
Q. How likely would it be for you to work with us again, given that each project we take on goes through a detailed discovery process of true needs & objectives?
We shall always consider Refresh Ideas as our first choice for our projects from now on. Thank you for designing a great website for us.

Don't miss out on the opportunity to take your business to the next level.
Book your first consultation today, and let's discuss how we can help you grow your business through digital channels. Click below to schedule your appointment; ask away your plans, visions or doubts, and take the first step.
Book Your Free Consult Now