So, here is a list of the top 10 countries where tea is the most favorite drink and enjoyed by millions of people daily.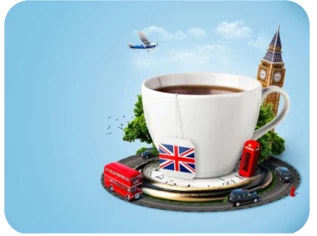 UK
After Ireland, tea is the most favorite beverage in the United Kingdom. Statistics show that the country consumes approximately 1.94 billion kgs, around 4.28 lbs. of tea annually. Like Turkey, the people of the UK also love black tea, followed by flavored tea and herbal tea. Tea was seen as inherently British, and in the early 18th & 19th century its consumption was encouraged by the British government because of the revenue gained from taxing tea.
To grow and expand the global outreach of your tea business, it's crucial to create a strong online presence. Work with an experienced digital agency like Refresh Ideas for a strategic digital marketing plan that helps your tea business gain a strong market foothold.
Refresh Ideas is led by Gaurav Dhingra (the director of digital strategy and marketing). The agency specializes in digital marketing services. They can help you increase your global presence. For more information, visit their website www.refreshideas.com
Don't miss out on the opportunity to take your business to the next level.
Book your first consultation today, and let's discuss how we can help you grow your business through digital channels. Click below to schedule your appointment; ask away your plans, visions or doubts, and take the first step.
Book Your Free Consult Now